Good Ofsted rating for Hamsey Green Primary School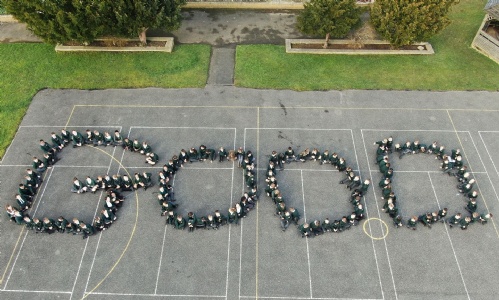 It's all GOOD at Hamsey Green Primary School!
The entire school community at Hamsey Green Primary School is celebrating after being graded 'Good' in all areas by Ofsted during a two-day inspection on 5th and 6th February.
The school has had a challenging few years since the previous Ofsted inspection found it required improvement but the incredible hard work of the staff, led by new Headteacher Nikki Mace and her senior leaders has transformed the School into one recognised as good in every aspect of its work. The school converted to an academy and joined Tandridge Learning Trust in May 2017.
Overwhelming support from the many parents who replied so positively to the survey was noted by the inspectors, who were also able to report that the children told them that there was no bullying in their school, because of its emphasis on 'kind words, kind actions'. Safeguarding was also judged to be effective and is clearly a priority for everyone in school.
The high aspirations for all children, as well as the breadth of extra-curricular opportunities and visits were recognised as a real strength, as was the children's personal development, understanding of worldwide events and the ability to think about the wider impact of their actions.
The inspectors recognised the quality of the teaching and learning, remarking particularly on the 'ambitious and broad' curriculum. They commented that 'Teachers expect the best from pupils. As a result, pupils are eager to do well.' School leaders, governors and trustees were found to know the school well and to be working together effectively to improve the quality of education.
The teaching of early reading and phonics is a priority at the school and the inspection team judged the staff to be well trained and 'quick to support pupils who need additional help'. They also praised the range of exciting activities on offer to develop their language, literacy and mathematical skills. School staff are delighted with this praise of their Early Years' provision because they are currently in the process of consulting on the development of a nursery at the School.
Nikki Mace, Headteacher, enthused:
'We are all thrilled with our latest Ofsted report and are really pleased that the comments of the inspectors recognise the hard work and significant progress we have made over the last couple of years. This result has been a joint effort, with pupils, staff, parents and governors all working together, supported by Tandridge Learning Trust, to ensure the success of the School and its pupils. I am so grateful to everyone involved for their continued support and dedication to the School. We have developed an aspirational and ambitious culture at Hamsey Green Primary School and we will continue to strive to achieve high standards and outstanding progress for all our children.'
The full Ofsted report can be read on the Ofsted website by clicking here.